It's been a busy summer at the Okanagan coLab. New members, returning members, and lots of super fun events – not to mention all the dust we've been kicking up with the renovation.
(And let's not forget the fact that coLab is turning SIX this month! Correct us if we're wrong, but we're fairly certain that coLab is the coolest six-year-old on the block. Light-up sneakers & slick yo-yo tricks ain't got nothing on us.)
With so much going on, it's hard to keep track of all the new developments that seem to just be cropping up by the day.
So we're making it easy for you.
Here's what you may have missed this summer — and what's on the agenda for the fall.
coLab Joins Coworking BC Collective!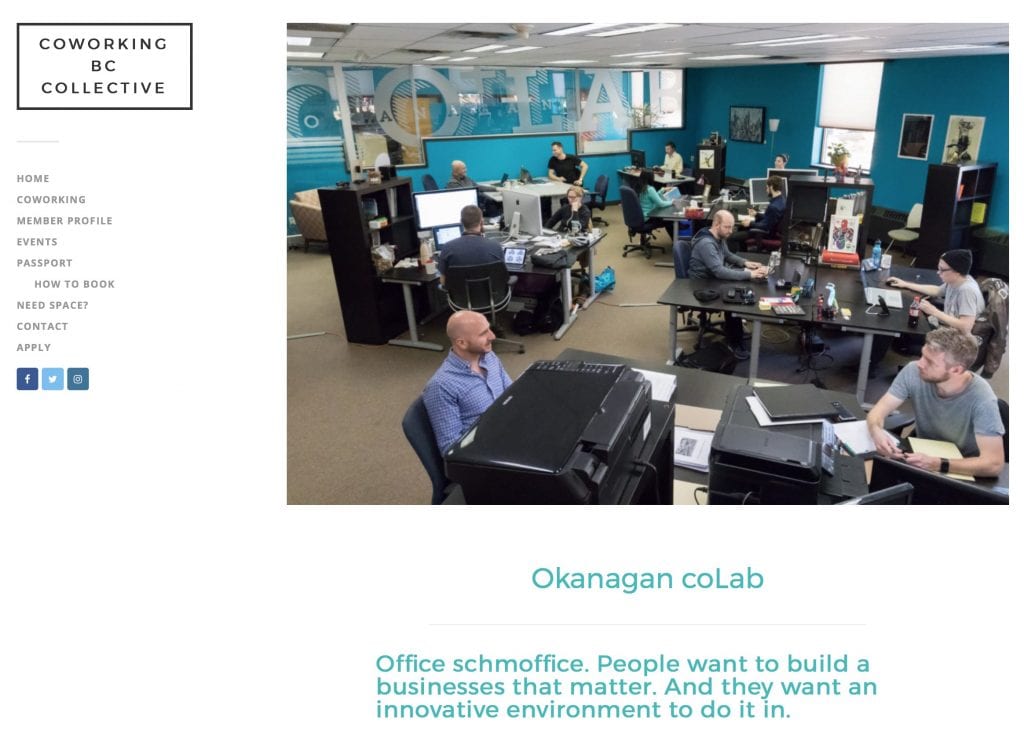 Coworking is predicated on the notion that working alone sucks.
That's an idea that coLab has been built on. It's been central to our mission since Day One.
But the problem? Is that so far, coLab has kinda been not so great at practising what it preaches.
Let us be hypocrites no longer! That's right – coLab itself is now in on the community thing.
The Okanagan coLab is now a member organization of the Coworking BC Collective, a professional association of coworking spaces that all work together (one might even say cowork) to make coworking more awesome.
As a member organization, we're now able to offer a Coworking Passport that gives members one day of use at each of up to 20 different coworking spaces – GREAT for people who travel frequently.
(Yep, that's the power of community right there.)
Renovation Station: The Latest Word on the Ongoing Reno Project
It's incredible what kind of a difference 2 months makes. We can't wait to show you what the space will look like when it's done.
There's gotta be something therapeutic about picking up a sledgehammer and just beating the insulation out of a non-load-bearing interior wall.
Unfortunately we'll never know, because the renovation has entered a new phase that makes tearing out walls kind of counterproductive at the moment.
Work is currently underway on the new lecture/training room for workshops and talks. We'll also have a new kitchen & lounge, offering a new coffee bar and other kitchen amenities designed to make the lunchtime experience even better.
These renovations will encourage freer movement between the two sides of the coLab, and thereby encourage more serendipitous encounters between members. Jules Galloway and Evolve Design Build have been hard at work making their concepts come to life, and you're starting to see the results in the space.
Holy Collaboration, Batman! coLabbers Make the coLab Go 'Round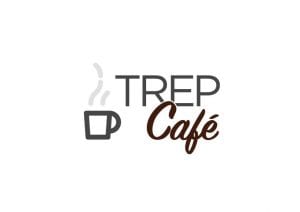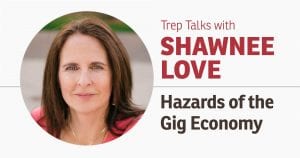 The coLab team has also been working like crazy to keep creating tons of original, creative, insightful programming for members, so we'd like to give a few shout-outs to some of the people who help make coLab a more awesome place to work.
We've got member Craig Powell of newEra Consulting continuing to host Trep Cafe and Trep Standup, two fantastic events for entrepreneurs and freelancers who want to connect, share knowledge, or get feedback on ideas. Trep Cafe is every Tuesday from 8 AM to 9 AM in coLab West.
We're also pleased to have Adrian Schneider of FreshGrade hosting #devKL meetups in coLab West Campus. The next #devKL meetup is in coLab West on September 13 from 8 AM to 9 AM. #devKL is a biweekly meetup to encourage local software developers to collaborate and learn from each other, and we're happy to be hosting it.
Thirdly, big shout-out to Shawnee Love of Love HR for continuing to host a compelling series of Trep Talks. Whether it's the hazards of the gig economy, work-life balance, or recruiting, Shawnee always brings relevant & useful material that hits us where we live. Most recently, Shawnee facilitated a talk about the Hazards of the Gig Economy, and we can't wait to have her back for another Trep Talk.
Finally: You've no doubt noticed that coLab has kicked things into high-gear, content-wise. Every week there's a new, insightful article on the blog, and we're trying to push out great interviews, videos, social media conversations, and other useful content to serve our members, with some compelling visuals to match. This is all thanks to coLabbers Daniel Jones of Daniel Jones Photography and Mike Straus of Brand Gesture. These two gents are working hard to give you visually appealing & expertly written content that actually solves real problems and helps you develop new skills.
All of these events & initiatives work together to help make coLab what it is, and we're happy & grateful to have such involved members.
(Psst! If you have an idea for an initiative you'd like to spearhead – whether it be a workshop, a meetup, a lecture, or just an hour of fun & games – we'd love to have you on board. Contact [email protected] to talk about your idea, or just hang around the space long enough and Shane will guilt trip you into doing something.)
Our 6th coLabiversary: Come Celebrate with Drinks, Appies, and Music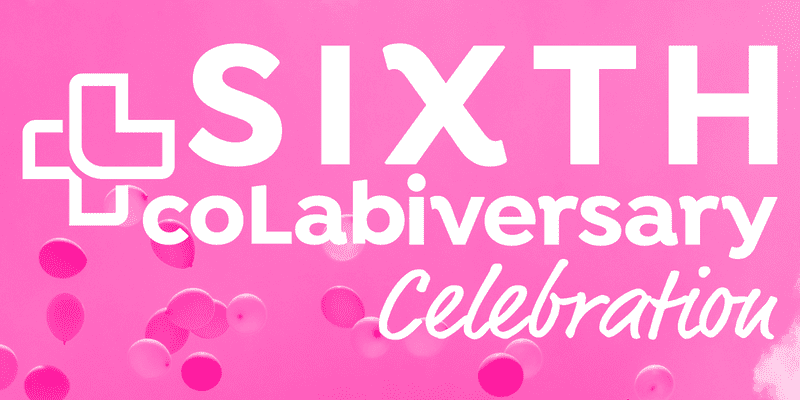 Six years ago, a small, determined group of freelancers and solopreneurs banded together to rent out a little office in the Switchboard building. We didn't have a fancy schmancy coffee bar, we didn't have an event space, and we definitely didn't have a professional-looking boardroom.
What we had? Was each other.
And over the course of the last six years, coLab has gradually grown, added amenities as needed, and attracted over 100 freelancers, startup founders, and solopreneurs by focusing on the one thing that they all crave: Community.
This anniversary party isn't just about coLab. It's about the people who have made coLab what it is.
And to mark the occasion, we're celebrating in style. Live music, drinks, appetizers, a cash bar, and a community potluck – because sharing is caring. Admission is free, but you'll need a ticket to get in.
You can get your FREE ticket here, and you can tell us what you're bringing to the potluck here.
coLearn, the Sequel: Workshop Series Currently Underway
That's right – coLearn is back for the fall season!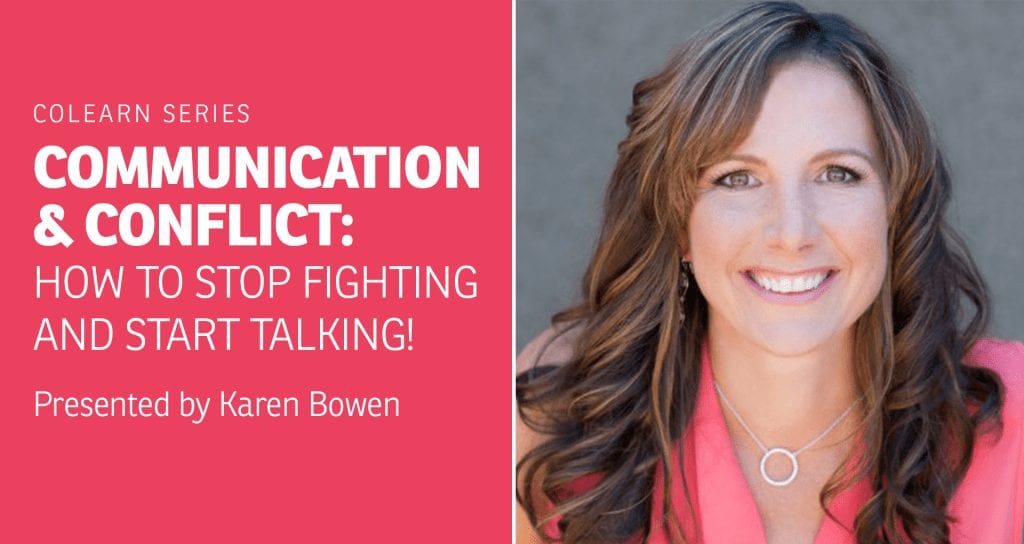 First up on the schedule is Communication & Conflict: How to Stop Fighting and Start Talking! hosted by leadership coach Karen Bowen of ManagerKnowHow. This workshop will take place September 21 at 1 PM. You can buy tickets here.
In this workshop, you'll learn foolproof communications tactics that will help you navigate and mitigate conflict. Instead of discussions that devolve into chaos, instead of arguing about arguing, you can defuse conflict by identifying it at the source.
We'll be adding more autumn workshops soon, so be sure to check coLearn.it for updates. Want to lead a workshop? Contact [email protected].
That's about it for this installment. Keep calm and cowork on!