When:
January 7, 2019 @ 9:00 am – 4:00 pm
2019-01-07T09:00:00-08:00
2019-01-07T16:00:00-08:00
Where:
Okanagan coLab
1405 St Paul St
Kelowna, BC V1Y 9N2
Canada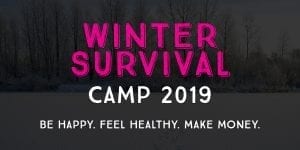 Be happy. Feel healthy. Make money.
Whether you're a freelancer, solopreneur, remote worker, or startup founder, you know that with winter comes the intense desire to curl up on the couch and hibernate for the next 2-3 months instead of working hard to build your business, land new clients, develop your skills, and live a rich life while you're at it.
In other words: Winter can really suck.
It gets dark out at 4 PM, driving is always stressful, and maintaining a healthy diet is hard when your brain is shouting "I REQUIRE SUSTENANCE" all day, every day, and no amount of carbs will stop the cravings.
That's why we've created the Winter Survival Camp – to make winter suck less.
From January 7th through January 11th, coLab is kicking off the 2019 with an offer of a FREE day of coworking for you to try out coworking in Kelowna and jumpstart your productivity.
If you decide to start a membership, you will receive 50% off the first month of any flex membership when you sign up.
Schedule of Events:
January 8th, 8AM–9AM: TREP CAFE TUESDAYS
January 9th, 3PM–6PM: COFFEE + CODE
January 11th, 9AM–5PM: CRAFTERNOON BREWS
We've developed this Winter Survival Camp with knowledge economy workers like you in mind, and we've partnered with a slew of local companies to provide you with everything you need to stay happy, healthy, and productive all the way through 'til spring.
Don't miss this opportunity to try coworking or finally take the plunge into a membership to find the right fit for you.