When:
March 23, 2020 @ 9:00 am – 10:00 am
2020-03-23T09:00:00-07:00
2020-03-23T10:00:00-07:00
Where:
Online: Zoom Live Event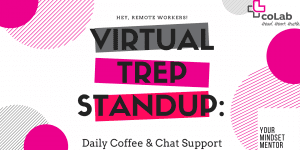 About this Event
At coLab, we recognize that we are living in uncertain circumstances.
To support our community in this time of business-as-definitely-not-usual, the Okanagan coLab is partnering with Your Mindset Mentor to host a daily virtual standup meeting where entrepreneurs, freelancers, remote workers, and others in the tech community can find support, get clear on their business objectives, solve challenges, identify opportunities, and thrive.
Join us online via Zoom every weekday (Monday through Friday) from 9 AM to 10 AM to chat about what's on your mind over a cup of coffee.
Format:
Come to the Zoom call with a win, a problem, an intention, or an accountability need. This is a stand-up format, which means each participant will get time to share what's on their mind and to contribute something to the group.
Together, we rise. Together, we thrive.
—-
coLab Online Community
Apply for online access to our vibrant online community, attend events, get discounts, and join a global network of independent coworking spaces, and so much more.
Why join? Online community, Members-only announcements, free and discounted events every week, community directory, visa access to 500 spaces worldwide, and month to month payment.