When:
January 11, 2020 @ 1:30 pm – 4:30 pm
2020-01-11T13:30:00-08:00
2020-01-11T16:30:00-08:00
Where:
Okanagan coLab
1405 St Paul St #201
Kelowna, BC V1Y 2E4
Canada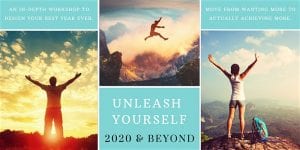 Unleash Yourself 2020 and Beyond
An In-depth Planning and Goal Setting Workshop
The new year is upon us again, and with it, another opportunity to reflect, reset, and reposition ourselves towards the dreams, aspirations, and passions we are called to pursue.
The Unleash Yourself workshop is a strategic and intentional approach to setting crystal clear dreams, goals and desires while also discussing the fears, barriers, and obstacles that get in the way of achieving them. We will explore a mindset shift of issues that affect you subconsciously and bring anxiety, frustration, burnout, lack of motivation and overwhelm into your days. We will learn essential habits that will help you make small shifts towards sustainable and lasting change.
This workshop is for you if:
You've had the same goals for years but you keep on failing to achieve them.
Your long term goal is so ambitious, you are unsure how to tackle it.
You set new year's resolutions but you never stick to it.
You practice goal setting but would like to take a deeper dive to maximize your abilities.
You feel stuck as your current routine and lifestyle are not fulfilling.
You are seeking to get out of your comfort zone, maybe your fears, old patterns and pain from the past are holding you back.
You want to get more focused and gain clarity.
You've tried "think positively" and "The Secret" strategies but it didn't work for you.
You have the sense that you are here for something bigger, but can't seem to step into it.
You want to say yes to a new direction, a new destiny in this new decade.
Join us! In this workshop, Amal uses research, stories, and profound tools to help you:
– Reflect on where you are at and where you want to go.
– Identify your biggest obstacles, limiting beliefs and blockages and set a strategy to overcome them.
– Setting crystal clear vision, desires and goals with an action plan for 2020 with an *** Exclusive 2020 Strategic Planning Toolkit *** which includes:
An assessment of your 2020 and long term goals
Prioritization tool based on categorical breakdown of each goal
A definition of "Why" each goal motivates and inspires you
A SMART plan for achieving each goal and the resources required for success
Actionable strategies for getting back after a fall or setback
A timeline breakdown to optimize your goals over the course of the year
Planned strategic check-in points to keep you on track and accountable
– Learn a simple, yet profound tool to regulate your thoughts and emotions to lead yourself to a more conscious mindset, regardless of the circumstances, so you remain present and focused.
– Have the opportunity to meet and mingle with like minded people
It takes courage to achieve our goals and highest personal potentials. Real inner courage comes from embracing and integrating all parts of ourselves while making empowered conscious choices about what we express. Real transformation is not changing who you are, but rather developing awareness to remove the conditionings and the pain from the past so that you can reclaim and share your most authentic self with the world.
What to bring:
A journal and a pen / your laptop if you prefer digital
Your water bottle, an open mind, and curiosity about your highest potential.
What is supplied:
Snacks and refreshments
About your presenter:
Amal Alhuwayshil is an entrepreneur, TEDx speaker, writer and visionary. Amal went from being born and raised in Saudi Arabia under societal and political oppression, being in a fixed marriage at the age of 19, moving to Canada in 2013 fully covered from head to toe, to re-writing her story and leveraging the pain from the past to build a fulfilling and successful life, to finding her passion in advocacy and empowerment, to becoming the first female President of UBCO Students' Union, to working with the Provincial and Federal Government on behalf of BC post-secondary, and starting her own business.
Amal's story is of overcoming, courage, resilience and high achievement. Amal brings her exuberance, humour, and experience to educate and inspire her audiences to dream big. Through sharing the tools and practices that helped her in her journey, she is helping leaders of today harness their inner courage, overcome their biggest obstacles, build resilience, maximize their success, and reach their significance.
www.amalalhuwayshil.com
About Okanagan CoLab:
Head. Heart. Hustle.
Kelowna's premier co-working space, where smart, talented independent professionals come to work hard on big, important projects, socialize with like-minded people, grow their network, learn new skills, and have fun doing it.