When:
January 28, 2020 @ 5:30 pm – 8:30 pm
2020-01-28T17:30:00-08:00
2020-01-28T20:30:00-08:00
Where:
Okanagan coLab
201-1405 St Paul St
Kelowna, BC V1Y 2E4
Canada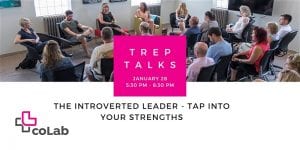 We like to think of an introvert as someone who is shy and withdrawn.
Someone who doesn't really like talking to people – and maybe doesn't even like people at all.
Someone who blanches in terror when asked to speak in public. Someone who would rather read than lead. Someone who's kind of insecure, who likes to be a wallflower.
The traditional business world would say that introversion is a stumbling block, something that keeps you stuck at the bottom of the corporate ladder.
(One 2006 Harvard Business Review study found that 65% of senior corporate executives view introversion as a barrier to leadership.)
But this caricature is nowhere even close to reality.
The fact is, introverts can run businesses, lead teams, come up with new innovations, host events, and look great doing it.
And you probably know (or have heard of) at least one or two very successful business owners who are also introverts.
Marissa Mayer. Bill Gates. Warren Buffett. J.K. Rowling. The list goes on. In fact, some experts say that 4 out of every 10 executives are introverts — and their ranks include successful startup founders, investors, inventors, and entrepreneurs.
Introverts aren't bad leaders — they just exhibit leadership qualities in a different way than what most people expect. And some of these qualities are actually necessary to the proper functioning of an organization.
Join us on January 28th to have a meaningful conversation about the archetypes and misconceptions of positions of power. In this talk, we'll discuss why introverted leadership styles are on the rise.
What you'll learn:
Characteristics of successful introverted leaders. Have you ever had a boss who sat quietly in a meeting and took their time to speak up, but when they did, what they had to say was well thought out and insightful? This person was most likely an introvert.
Strategies for being a successful introverted leader. If you're an introvert struggling to translate your skills in an extroverted world, take heart! We'll guide you through some strategies you can use to show those extroverts who's boss – literally.
Stories of emerging introverted leaders in our community. Hear from successful business leaders who have discovered how to make introversion work for them.
Ways to find your voice as an introvert. Spark your development as an introverted leader by discovering truths about yourself that will send you on an epic quest of soul-searching and up-skilling.
Who should attend:
People who want to uncover their introvert superpowers and start living their best introvert biz life.
About the presenter
Shane Austin is the co-founder of the Okanagan coLab and a card-carrying introvert. He has spent 15 years leading teams of knowledge professionals and building scalable businesses.