When:
September 17, 2019 @ 6:00 pm – 9:00 pm
2019-09-17T18:00:00-07:00
2019-09-17T21:00:00-07:00
Where:
Okanagan coLab
1405 St Paul St #201
Kelowna, BC V1Y 2E4
Canada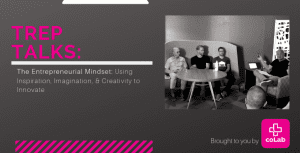 Entrepreneurship is more than just business skills. It's a way of being – one that can benefit those in the arts, academia, and a variety of other sectors. One that can create unexpected new outcomes by shifting your perspective. And successful people know that the #1 key to their success? Is an entrepreneurial mindset.
Mindset is how entrepreneurs identify overlooked opportunities.
Mindset is how they stay motivated long enough to turn an idea into a sustainable success.
And mindset is how they create the beliefs and assumptions it takes to grow.
Bottom line: If you want sustainable results, it's going to take a mindset that fosters innovation. Because the "hustle" attitude and the "brute force" method are exhausting.
Join us for a facilitated discussion about the role of mindset in the entrepreneur's journey. Regardless of setting, there are several key skills and attitudes that distinguish a successful entrepreneur from others – and they have nothing to do with your offer or business structure. In this workshop, you will hear from experienced entrepreneurs and innovators who discovered the importance of mindset through their own firsthand experiences. You'll hear their stories and learn the lessons that helped them develop deeper self-awareness. And you'll learn the tricks and secrets they use to mitigate their weaknesses and capitalize on their strengths.
By the end of this event, you'll understand, on both a cognitive level and a visceral level, what it takes to succeed as an entrepreneur. You'll learn how to:
Understand and elevate your current mindset around being a successful entrepreneur
Authentically articulate your brand, value and expertise while remaining grounded
Get out of your head and into flow; embrace the perpetual pivot
Elevate your pitch and ask for what you want, unapologetically
Take networking to the next level and attract people & profit
Have fun growing your business with a virtuous cycle grounded in service and an abundant mindset
It's time to find out what drives you. It's time to tell your fear to take a hike. You know what you want. This event will help you go get it.
Event ticket includes:
1 Drink ticket

Snacks & Appetizers

Access to the speaker session & social
For questions, please contact the organizers at carolina@okcolab.com