When:
July 26, 2017 @ 12:00 pm – 1:30 pm
2017-07-26T12:00:00-07:00
2017-07-26T13:30:00-07:00
Where:
COLAB WEST ROOM
1405 St Paul St #201
Kelowna, BC V1Y 9N2
Canada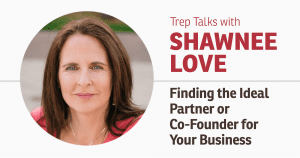 You have a great idea for a Startup. You are ready to make your idea a reality. But you don't have enough capital or maybe you don't know how to actually build the product you have in mind.
Or you do have the technology skills to build it but are lacking business skills. You could outsource some of the work or hire employees but this approach means more time and money to manage the workload which most founders simply don't have. The answer: Finding a co-founder with the complementary skills.
You want to find someone who shares not only the passion for your idea but also the long-term responsibility and risk. Someone who doesn't just want a job but who is serious about building a strong business with you. Finding a partner for your business is very much like finding your life partner. You want to share similar values and passions – and of course, you are looking for the right chemistry. So, where do you start? We will discuss the questions you need to ask yourself, how to get clear on what you are looking for and where you can find potential co-founders for your business.
Join us for a free 1-hour Brown Bag Lunch and Learn session with entrepreneur, business leader and human resources expert Shawnee Love. Shawnee will lead an interactive group discussion exploring which steps you need to take to find the right partner or co-founder for your business.
Following the session, we will have 30 minutes of casual networking — maybe you will meet your ideal partner or co-founder!
You will leave this session with these tips and tools:
The right questions that will help you to become perfectly clear on your needs ('What do 

I need?')

Ideas for the perfect 'Job Description' ('Who do I need?')
Strategies on how to find like-minded entrepreneurs ('Where do I find the right person?')
About Shawnee Love, LoveHR
Shawnee brings strong business acumen and extensive expertise leading and practicing HR over her 24-year career. Shawnee founded LoveHR in 2009 and since then has worked with 100+ diverse clients including family businesses, first nations, not for profit, and for profit organizations. Prior to founding LoveHR, Shawnee worked in entrepreneurial organizations delivering creative and practical HR solutions.
In the last 7 years, Shawnee has spoken to large and small groups on topics relating to HR and people management, and developed and/or facilitated workshops training participants in people management, HR management, and soft skills development.
She is known for facilitating engaging discussions and ensuring practical takeaways for participants, not to mention her sense of humor and honest dialogue on smart people practices for businesses today.
Grab your free ticket here. Any questions or suggestions? Please email the coordinator Annika Nebe at annika@okcolab.com.