When:
October 26, 2017 @ 12:00 pm – 1:30 pm
2017-10-26T12:00:00-07:00
2017-10-26T13:30:00-07:00
Where:
Okanagan coLab
1405 St Paul St
Kelowna, BC V1Y 9N2
Canada

Contact:
Shane Austin
(778) 821-1932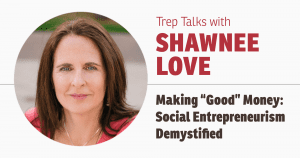 Today's young people are as concerned with going all Superman on the world (minus the cape and tights) as they are with making money.
In fact, a large-scale 2016 Global Entrepreneurship Monitor study of over 167,000 young adults in 58 countries found that 3% of all young adults are actively building social enterprises.
(3% doesn't sound like a lot, but keep in mind that the average rate of commercial startup pursuit is only around 7%, so comparatively speaking, 3% is huge.)
Against this backdrop, social enterprise has taken off as a new formula for success, combining capitalism with a save-the-world mentality. Social enterprises aren't just about social change, and they aren't just about profit – these self-funding, for-profit businesses are tackling global issues such as alleviating hunger, improving education, and combatting climate change, and proving that making money and doing good don't have to be mutually exclusive. To achieve their high-minded goals, these companies might fund specific programs, partner with governments or existing philanthropic entities, or follow a one-for-one donation model, and work on either the local or international level.
Ever wondered what social entrepreneurship is? Or how your passion and purpose can create social impact?
More and more purpose-driven businesses are bringing social impact into how they operate. They see it helps build the brand, boost loyalty and even drive revenue. But, many aren't sure how to start.
Social impact works best when it is an integral part of your company's strategy, culture and values. How do you make that happen?
The next Trep Talk invites a panel of speakers to share their experiences with social entrepreneurship, connect the dots between passion and purpose, and showcase the kinds of impacts you can have as a social entrepreneur. They'll walk you through practical strategies you can use to incorporate social responsibility into your business model just like any other initiative.
Our Panelists
Jeff Hoffart – Volinspire
Jeff was born and raised in Saskatchewan and has carried those small-town community values with him throughout his life. Jeff's journey stems from being an educator, implementing service-learning curriculum throughout IB International Schools in Asia and Europe. Jeff continued to empower youth to take action while organizing TEDxYouth events and as he launched his first start-up, a publishing company that focused on social impact for youth. Jeff has been with Volinspire since the days of drawing concepts on napkins and continues to draw on the community values he learned as a kid as he works with businesses, charitable organizations and volunteers to create stronger, more connected communities across BC and Canada.
Angela Nagy – Greenstep
Angela is passionate about helping businesses go green, while improving their top and bottom line, to enhance the positive impacts businesses can have on people and the planet. Founding GreenStep Solutions in 2006, she provides sustainability consulting, certifications and software for businesses throughout Canada and the US. Her firm has worked with more than 1600 businesses to date, and became a Certified B Corporation in 2015.
Nicole Rustad – Vortovia
Vortovia was founded by Nicole Rustad, a champion for world change who uses equal parts strategy and passion to make things happen. Formerly the Corporate Citizenship Director at Disney Interactive, for ten years she drove the corporate social responsibility vision, strategy, and programs across multiple lines of business where she created bold, immersive programs. Now, through Vortovia, Nicole consults to business, non-profits, foundations, and individuals who want to create strategies and programs to scale, innovate, and drive long-term impact.
This is event is for aspiring social entrepreneurs, who are considering starting a business that impacts their community and the world.
Social responsibility isn't just good business. It's good business.
About Shawnee Love, LoveHR
Shawnee brings strong business acumen and extensive expertise leading and practicing HR over her 24-year career. Shawnee founded LoveHR in 2009 and since then has worked with 100+ diverse clients including family businesses, first nations, not for profit, and for profit organizations. Prior to founding LoveHR, Shawnee worked in entrepreneurial organizations delivering creative and practical HR solutions.
In the last 7 years, Shawnee has spoken to large and small groups on topics relating to HR and people management, and developed and/or facilitated workshops training participants in people management, HR management, and soft skills development.
She is known for facilitating engaging discussions and ensuring practical takeaways for participants, not to mention her sense of humour and honest dialogue on smart people practices for businesses today.