When:
November 10, 2019 @ 12:00 pm – 5:00 pm
2019-11-10T12:00:00-08:00
2019-11-10T17:00:00-08:00
Where:
Okanagan coLab
1405 St Paul St #203
Kelowna, BC V1Y 9N2
Canada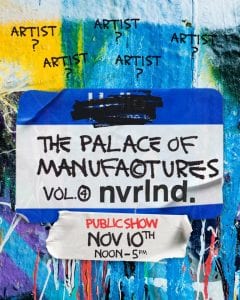 You and a guest are invited to the Private Opening of The Palace Of Manufactures pop-up urban art gallery, Volume 4.
The event will run from 12-5pm on Sunday, Nov 10th at 201-1405 St Paul Street.
For this event, we are extremely proud to announce we will be collaborating with the incredible nvrlnd collective out of Calgary https://www.nvrlnd.ca/.
nvrlnd is a non-profit, multi-disciplinary art collective that transformed an abandoned hotel in the Ramsay neighbourhood in Calgary, creating an open-minded, affordable, and safe art space for artists to gather, create, experiment, and share their work with the public.
We are thrilled they will be sending 5 of their artists to exhibit at Volume 4 of the Palace of Manufactures.
Please follow us on Instagram as we reveal each of these guests as the date draws near: https://www.instagram.com/palaceofmanufactures/ or Facebook: https://www.facebook.com/Palace-of-Manufactures-125088998189507/
The Palace Of Manufactures is a pop-up urban art gallery featuring works inspired by animation, comic books, video games, cartoons, graffiti, hip hop, and 80s and 90s culture. We want to expose our community to the renaissance in art that we believe is taking place in the world at large.
We believe that the art we feature stands apart from spaces, transcending drywall, paint hues, and attached décor. It doesn't match; it distinguishes, it conflicts. It says something to, and about, the person who collects it. It represents a connection between the soul of the artist and the soul of the collector. It is valuable.
We look forward to seeing you there!
– The Palace Of Manufactures