When:
April 17, 2020 @ 12:00 pm – 1:00 pm
2020-04-17T12:00:00-07:00
2020-04-17T13:00:00-07:00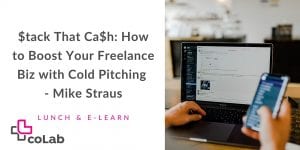 Freelancers have lots of different ways of finding their next gig.
In-person networking. Applying to contract gigs online. LinkedIn. Content marketing. Referrals. Even the dreaded Upwork.
And each one of these methods has its own merits. But if your objective is to get a freelance project, then there's a faster, more direct way to do it.
It's called cold email pitching, and freelancers around the world have used it to get big, meaty projects, find work with Fortune 500 companies, and quickly scale up their freelance operations to the point where they had no choice but to start hiring team members.
Why does cold email work so well? And so quickly?
Firstly, it does something critically important: it bypasses the gatekeepers. No more having to make small talk with the decision-maker's colleague's assistant's assistant. No more having to bribe the receptionist to forward your message.
Secondly, it positions you at THE expert who can solve their most pressing problem, and it does so in an engaging way. Forget about those lame cover letters and stupid resumes – cold email is how you create a sense of familiarity.
And finally, it's repeatable. Once you get a solid handle on how cold email works, you can scale up your outreach efforts and send as many emails as it takes to land that next project (or even train an assistant to do it!)
Introducing: $tack That Ca$h – a crash course in cold email pitching for freelancers who wanna start lining up projects fast.
Join Mike as he reveals the tactics and practices that make for effective cold pitching.
Because your next big freelance project could just be a simple email away.
About Mike Straus
Mike Straus is a freelance writer and biz coach who has cold pitched his way to 5-figure retainers and fun gigs with major household name brands. He has worked with Hockey Canada, Star Trek, and more startups than you can shake a stick at. He built his business through cold email pitching, and cold email is still his #1 go-to method for finding fun & lucrative projects fast.
—-
When you register for this online lunch and e-learn talk you will be sent a URL 24-hours before the start time to join the live zoom call.
—-
coLab Online Community
Apply for online access to our vibrant online community, attend events, get discounts, and join a global network of independent coworking spaces, and so much more.
Why join? Online community, Members-only announcements, free and discounted events every week, community directory, visa access to 500 spaces worldwide, and month to month payment.