When:
November 27, 2017 @ 1:00 pm – 5:00 pm
2017-11-27T13:00:00-08:00
2017-11-27T17:00:00-08:00
Where:
Okanagan coLab
1405 St Paul St
Kelowna, BC V1Y 9N2
Canada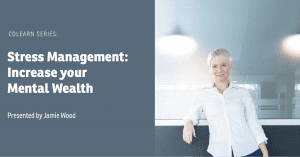 "JAMIE'S APPROACH IS…WHEN YOU UNDERSTAND STRESS, YOU CAN MANAGE IT"
Jan. 29th – Day 1: Physiology of Stress
Jan. 31st – Day 2: Stress Management Tools
Please feel free to purchase only one workshop option, or both for a disocunted price.
During the SMA workshop participants will learn what a stress response is and how stress effects the body & brain. The focus will be on: identifying stress triggers, counteracting a stress response, shifting brainwave states, & increasing productivity.
The first part of the workshop will be about the physiology of stress, while the second part will be about putting stress management tools into practice to strategize for success.
Key Takeaways will enable participants to:
Enhance performance
Prevent burnout
Govern stress
Time management tools
Create operational efficiencies
Heighten productivity
Intensify focus
Develop awareness
Increase creativity
Greater wellbeing
Presenter:
Founder and creator Jamie Wood took a sharp left from her growing career in Finance back in 2008 and began studying the intricacies of the mind/body connection and the stressors permeating modern day working environments.
She has studied the science and art of Self/Stress Management with world renown mindfulness teacher Maitreyi Yogacharini, as well as worked along side behavioural neuroscientists while serving as a researcher with the BC Cancer Association.
Her successful corporate wellness program, "Stress Management through Awareness" (SMA), seamlessly integrates neuroscience and awareness techniques into practical tools for everyday use.
Her past experiences working for industry leading financial institutions provides an "insiders" perspective to operational management, team dynamics, and the unique culture of demanding industries.
Her popular speaking engagements throughout North America are widely praised for their ability to arm attendees with the education and tools to manage stress and build resilience in the workplace.
Website: www.sangaliving.com
Linkedin: https://www.linkedin.com/in/jamie-wood-b8592952/
Instagram (stress management posts & tips) https://www.instagram.com/sangaliving/