When:
February 22, 2018 @ 1:00 pm – 5:00 pm
2018-02-22T13:00:00-08:00
2018-02-22T17:00:00-08:00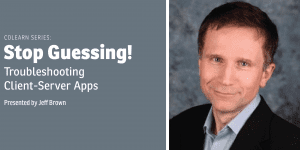 Troubleshooting misbehaving applications has never been easy, and the growth of complex distributed applications, cloud computing, and outsourcing has made finding, diagnosing, and remedying problems even tougher. It's often those annoying, intermittent performance and stability problems that are the most difficult to diagnose.
You know those problems. The ones that always appear on Friday afternoon, just before you're about to head up to the slopes for the long weekend. Or the problems that show up right before date night is about to start.

The combination of transient faults and complex distributed systems can make it quite challenging to reliably isolate the fault to a particular technology or portion of the end-to-end system. The result? Responsibility for addressing the problem bounces from team to team, or company to company, with everyone pointing fingers at each other and passing the buck along as quickly as possible. 

When root cause analysis is too difficult and time consuming, a common attempt at fixing the problem is to formulate a theory and then make changes. (AKA: Guess And Hope.) But there are proven troubleshooting techniques that gather useful definitive system data and use it to systematically isolate the root cause to a specific client, server, application, system, network, or service provider.
In this workshop, you'll learn tried-and-true techniques that you can use to quickly uncover the heart of the problem, address it without wanting to pull your hair out, and look like a genius to everyone around you by saving your client or employer a pile of time and money.
When you leave this workshop you will:
Understand why traditional troubleshooting often fails to address problems in modern distributed systems.
Recognize the negative impact poor troubleshooting techniques have on the organization, its customers, and suppliers.
Be able to implement rigorous and deterministic techniques that fix problems without relying on guess-and-hope strategies.
Understand the importance of "definitive data" and what it means to troubleshooting.
Have a whole new view of Wireshark, network packet capture, and system logs as the cost saving tools they are!
Presenter:
Jeff Brown has 35 year R&D experience in network software and hardware development, including over a decade working in network performance monitoring/troubleshooting and cyber-security. He is currently CTO, yodelME, Kelowna tech company.
linkedin.com/in/jeff-brown-317ba7
Please bring your computer to this workshop, preferably with Wireshark installed.