When:
October 16, 2018 @ 6:30 pm – 8:00 pm
2018-10-16T18:30:00-07:00
2018-10-16T20:00:00-07:00
Where:
Okanagan coLab
1405 St Paul St #201
Kelowna, BC V1Y 2E4
Canada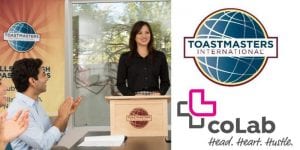 Terrified of speaking in public? Need to practice your pitch? Feeling tongue tied in meetings?
Does the thought of meeting a roomful of strangers, preparing an elevator pitch, or giving that big presentation make you nauseous? Have you wondered what it takes to be TEDx-worthy, or how to answer tough questions or network with confidence? Would you like to learn the basic skills and techniques to become a more confident and effective communicator?
Kelowna Toastmasters and Okanagan coLab know how critical effective communication skills are and want to help you speak easy(-er) in any or all of the above situations.
This 6 week course is based on the Toastmasters International communication and leadership program and is the quickest means by which people can jump right into the process of improving their speaking skills.
WHAT WILL I LEARN?
To be confident in delivering your ideas in large and small groups
How to plan and deliver persuasive presentations and "elevator pitches"
How to think on your feet (for interviews, Q&A, handling objections)
How to "read" and respond to your audience
Listening and evaluation skills
WHO SHOULD ATTEND?
This workshop is for anyone curious to know what Toastmasters is and how the program can help your "head and heart take your hustle to the next level" by speaking confidently and effectively in any situation.
This course is geared to those in the Okanagan, and especially those working in the tech and start-up sector, remotely, or in a co-working group such as Okanagan coLab.
WHEN & WHERE?
6 weeks, every Tuesday starting October 16 to November 20, 2018.
WHAT'S THE COST?
$100 – General public (under $17 per session, or $11 per hour!)
$75 – coLab Members (with proof of current coLab membership)
$65 – students (with proof of student ID)
***SPECIAL OFFER! coLab will provide free coworking to workshop attendees on days that the session are run. Any workshop attendees that sign up for any coLab flex membership will get 50% off their first month's fees.***
SIGN ME UP!
RSVP by clicking the green "Register" button on the right. Once you have completed the online registeration, information will be sent to you on payment options.
Please note your spot will not be confirmed until your registration fee is received. Space is limited to 12 people to ensure adequate participation for all attendees and will be assigned on a first-paid basis.
WEEKLY OVERVIEW
Session 1
Overview of course structure & goals
Assessing current skills
Speaking and evaluation techniques
Session 2
Introducing a speaker
Speech #1: The Icebreaker
Organizing a speech
Session 3
Speech #2: Organized speech with introduction
Defining and developing the purpose of a speech
Impromptu speaking
Session 4
Speech #3: Speaking with a Purpose
Using body language
Learning to evaluate and give feedback
Session 5
Speech #4: Your Body Speaks
Leading discussions
Learning to use vocal variety
Session 6
Speech #5: Vocal Variety
Speech Evaluations
Participant Evaluations & Progress Review
THE INSTRUCTORS
Pat Nelson has been a member of Toastmasters for more than 25 years and is currently the President of the Kelowna Monday Night Club. Pat has been very active promoting the Toastmasters Youth Leadership Program and is the Co-Leader of Room to Read Okanagan, a volunteer chapter which promotes literacy and education in the developing world.
Erin Trifunov joined Toastmasters in April 2016 and has achieved both the Competent Communicator and Competent Leader designation and won the 2018 Area Speech Contests. Erin is currently a Project Manager with a background in communications, marketing research and fund development.