When:
December 16, 2017 @ 11:00 am – 1:00 pm
2017-12-16T11:00:00-08:00
2017-12-16T13:00:00-08:00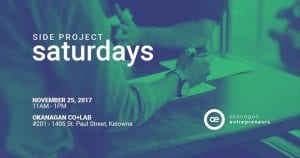 Spending time on the weekend working by yourself from a coffee shop on a project you love? Why not drop in and join a group of Kelowna hustlers?
Side-Project Saturdays provides a place for Kelowna creatives, entrepreneurs, and hobbyists to work and connect
Do you have a side-project, small business, hobby, or community project that has been put on the back burner? Join us and enjoy FREE SPACE and WIFI while you work on your project, and meet great people doing interesting things in Kelowna.
PS This is an inclusive event — attendees work on a wide variety of projects and ideas (for profit, and/or for fun), at all stages of realization. C'mon down & work on your project!
Examples of side projects worked on by participants:
• Podcast editing
• App development
• Growing side-hustle, photography
• Responding to emails that needed some attention
• Growing Entrepreneurship in Kelowna
• Just checking out the space and community
Drop in for the entire time or whatever you feel like. There is usually lots of discussion and people learning from each other.
Hosted on the 2nd floor at the end of the hall in co+Lab West Campus, suite #204. Parking available on St. Paul or Doyle St.