When:
May 5, 2020 @ 12:00 pm – 1:00 pm
2020-05-05T12:00:00-07:00
2020-05-05T13:00:00-07:00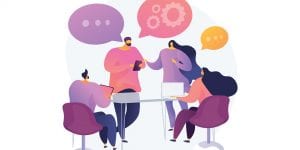 Meaningful conversations on change and innovation.
During this time of crisis many businesses are struggling to adapt to a radically 'new normal', while protecting their employees' health and building organizational resilience.
Rattled from seemingly overnight changes to new ways of working, and adapting to shifting consumer behaviour, they are potentially unable to identify unseen opportunities that are available.
Beginning Tuesday, May 5th, we are kicking off Reinventing 2020, with topical conversations on creativity, design, transformation and innovation.
Each week, we will explore how businesses can:
Keep innovation on track through the organization.
Get direction from leaders that balances urgency and strategic thinking.
Research consumer behaviour and consider and adapt conceptions of value.
Deal with disruption at the speed and scale of COVID-19.
Leverage organization's strengths and optimize capabilities in new and different ways.
Integrate new people, their knowledge and ideas in current circumstances.
The session format is made up of a short topical presentation, followed by a moderated group conversation.
After each session a video recording will be shared along with links to resources.
Questions? Email the organizer.
About Puzzle
Uri Hess, Sean Shepherd and Shane Austin are principles of Puzzle Innovation, a firm that focuses on helping organizations activate and sustain a culture of innovation so they can become adaptable in the new economy, where identifying undiscovered opportunities leads to long term sustainability.
The Puzzle program exposes organizations to an executable process for implementing and sustaining innovation. Clients will learn the skills, methods, and processes required to activate innovative thinking and are provided the insights, tools, and support to design their organization to sustain innovation long-term by consistently developing and delivering new products and services to market.