When:
November 18, 2017 – November 19, 2017
all-day
2017-11-18T00:00:00-08:00
2017-11-20T00:00:00-08:00
Where:
Okanagan coLab
1405 St Paul St
Kelowna, BC V1Y 9N2
Canada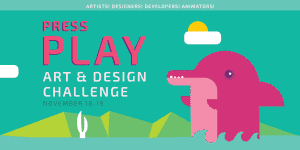 The reason most creatives fail? Is because they don't understand the business side of creative industries.
While on the other hand…
"Finding experienced, bold, and creative people to work for my startup is easy," said no one ever.
Press Play is looking to solve these issues.
From this experience you will gain:
– Industry Knowlege
– Experience in the areas of ideation, concept development, art direction, and branding
– Presentation skills
– Networking opportunities
– Broadened education in transmedia
Press Play is an intensive weekend workshop that engages new artists, designers, technologists, and creative thinkers to innovate in the world of interactive storytelling.
Guidance will be provided throughout the process by local industry leaders who will aid the group in creating a pitch-able concept.
This event will cost $50 for professionals, and is free for students.
The teams will be made up of students as well as workers in a variety of industries. Teams of 4-5 people will then be constructed by combining participants with diverse skillsets who will then collaborate to finesse new ideas.
As a student, you will be working with a team of industry and fellow students to create a prototype for an interactive story for a mobile device. That might mean a game or an app. Together as a group you will brainstorm a great solution under a specific theme (to be determined) and you will use the 48 hours to create a prototype and pitch package that explains your idea to a panel of judges. You will have mentorship all throughout the process along with various check-ins to help the teams stay on task and also receive feedback along the way.
A topic will be presented on the first day of the workshop so all participants will have an equal amount of preparation time before the presentation and execution of their idea.
— –
Please take a few minutes to fill out our pre-event questionnaire using the appropriate link below. It's mandatory that you do this, so that we can place you in a team.
Are you a professional? Use http://okcolab.co/pressplaypros
Are you a student? Use http://okcolab.co/pressplaystudents
Thanks for signing up! Please share our event with others who you think would like to attend.