When:
November 17, 2017 @ 1:00 pm – 3:00 pm
2017-11-17T13:00:00-08:00
2017-11-17T15:00:00-08:00
Where:
Okanagan coLab
1405 St Paul St
Kelowna, BC V1Y 9N2
Canada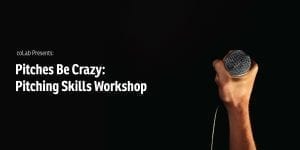 Description:
Do you understand what best attibutes to present to potential employers about yourself?
Do you know how to clearly communicate what it is that your company does?
Are you having trouble putting your brilliant solution into words?
Do you know precisely when to drop your "Ah hah!" moment in your pitch?
Can you voice your 'why'?
In this 2 hour meetup we help you improve your pitching skills through the formulation and practice of the renowned "elevator pitch". We break down and understand the components of a great pitch, providing plenty of practice until you get it right. Pitching is a key skill of every successful entrepreneur.
Pitching is a craft that can be learned. Once mastered, you can communicate your business clearly to employees, customers, and investors, avoiding the common pitching mistakes that make you look inexperienced.
We'll teach you how to pitch you and your passion in a way that makes everyone who hears it become a champion of your cause.
Pizza will be provided.
Presenter:
Todd Embley
Director, Mentor Program at Open Angel
Who should attend?
Anyone who needs practice and expert advice on pitching.
Anyone who has an idea for a startup or an early-stage company.
Anyone that is interested in joining a new startup or looking for a co-founder.