When:
November 14, 2017 @ 1:00 pm – 5:00 pm
2017-11-14T13:00:00-08:00
2017-11-14T17:00:00-08:00
Where:
Okanagan coLab
1405 St Paul St
Kelowna, BC V1Y 9N2
Canada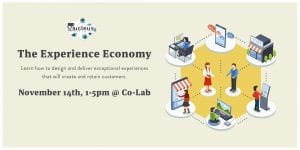 Learn how to design and deliver exceptional experiences that will create and retain customers.
In this workshop, you will learn the following:
What Customer Experience is, and is not
How to develop a Customer Experience Strategy
Why thoughtful design is important for Customer Experience
What processes to use for determining what their customers' value
How to implement a Customer Experience strategy in their own business
Who is responsible for Customer Experience in their organisation
How to mitigate risk using Customer Experience
How to use Customer Experience to gain an advantage over large-scale competition
Why Customer Experience is the best way to stand apart from your competition
How to create and analyse a Customer Journey Map
The main topics that will be covered in this workshop:
Removing the guesswork from all business development questions
How to deliver an exceptional experience every time
How to avoid competing on price: get what you are worth
As these issues are common to most businesses, any solopreneur or entrepreneur will benefit from our
workshop.
Three Key Ways Nucleus Strategies Helps Organizations:
Connecting organisations to the actual needs and expectations of their customers, allowing them to consistently deliver memorable experiences that set them apart from their competition.
Helping organisations achieve sustained growth by facilitating internal alignment that focuses on a shared understanding of their customers.
Teaching organisations how to use Customer Experience as a key tool to uniquely position themselves and gain competitive advantages.
Presenter: Sean Shepherd & James Grieve
Sean has extensive experience in design, project management, integrating and managing technology, communications, marketing, and strategic planning. Sean's skill set includes visual design, interaction design, user experience design, and customer experience design and is a Certified Usability Expert (CUA), Information Architect (IA), and Customer Experience Professional (CCXP). Always committed to furthering his education, Sean is continuing his studies with a Masters in Information Design and Strategy through Northwestern University where he is writing his thesis on Experience Design.
James has 20 years of business experience leading teams, managing projects, and consulting organizations on strategies related to business development, marketing, client relationship management, and business planning. James began his professional career in the gaming industry and has worked in manufacturing and consulting for small and medium sized businesses. James has an MBA from Royal Roads University, and is also a Certified Management Consultant (CMC), and a Certified Sales Professional (CSP). James has a keen interest in personal development and community involvement, and volunteers his time by mentoring business students and aspiring entrepreneurs.
"We help organizations solve challenging problems through a collaborative and visual approach that connects directly to what their customers' value."
HOW people buy your products or services is now at least as important as WHY.