When:
September 19, 2018 @ 8:00 am – 8:30 am
2018-09-19T08:00:00-07:00
2018-09-19T08:30:00-07:00
Where:
Okanagan coLab
1405 St Paul St #201
Kelowna, BC V1Y 2E4
Canada

Contact:
Renee Makea
renee@okcolab.com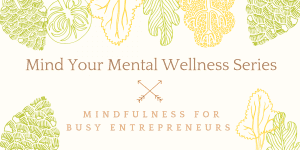 Mind Your Mental Wellness Series: Mindfulness Events for Busy Entrepreneurs
You know those busy, crazy days when everything is on fire and you don't have time for a break? That's when your brain needs a break the most.
Busyness is addictive. And if you're waiting for someone to give you permission to take time for yourself, you're going to end up waiting a good long while.
FACT: You will never stop being busy. There will never be "a good time" to place your mental wellness first. We entrepreneurs are, by nature, busyness addicts, and the more we chase that drug, the less we actually get done and the worse we feel.
Being busy feels good at first. It makes you feel important. But eventually, if you keep getting busier and busier, you'll reach a breaking point.
And while all those wacky comedy shows on TV make a mental breakdown look like a well-deserved break from your work, the reality is actually much less glamorous.
What if putting your mental wellness first was the best way to make yourself feel important? What if committing time to your own mindfulness was actually the best business investment you ever made?
Introducing: Mind Your Mental Wellness. A mindfulness-oriented series of fun, educational events for busy-as-a-bee-right-before-the-winter-frost entrepreneurs who are sick & tired of losing their minds.
In this series of events, you'll learn how to keep your chill even when ALL OF THE PROJECTS ARE ON FIRE.
You'll learn how to get the things done in style, while feeling well-rested and energized.
And best of all…you'll learn how to silence your inner Gary Vaynerchuk when you start figuring out how to separate hustle from bustle.
Don't even try to tell us you're too busy to attend.
Because if that's the case…you're the kind of person who needs this event series the most.
It's time to take back your sanity. Register today and kick "busy" to the curb.
Agenda:
Wednesday mornings, before the work day begins take 30 minutes for YOU, from 8:00am-8:30am.
September 19th: Jamie Wood, Stress Management Mindfulness
September 26th: Jamie Wood, Stress Management Mindfulness
October 3rd: Maddie Elise, Holistic Nutrition Mindfulness
October 10th: Maddie Elise, Holistic Nutrition Mindfulness
About Jamie Wood, Sanga Living:
Founder and creator of Sanga Living Jamie Wood took a sharp left from her growing career in Finance back in 2008 and began studying the intricacies of the mind/body connection and the stressors permeating modern day working environments.
She has studied the science and art of Self/Stress Management with world renown mindfulness teacher Maitreyi Yogacharini, as well as worked along side behavioural neuroscientists while serving as a researcher with the BC Cancer Association.
Her successful corporate and individual programs, "Stress Management Alternatives" (SMA), seamlessly integrates neuroscience and stress management tactics while tying it all to profitability, creating elite performance in high pressure environments. The practical tools for everyday use develop habits for success.
Her past experiences working for industry leading financial institutions provides an "insiders" perspective to operational management, team dynamics, and the unique culture of demanding industries.
Visit: http://sangaliving.com

About Maddie Elise, Maddie Elise Nutrition:
Maddie is a holistic nutritionist​, ​her passion is empowering​ creatively driven people​ to be the ​architects​ of their own ​health​. ​She believes anyone who depends on their creativity and knowledge to earn a living deserves to feel what a thriving body has to offer. Her programs and coaching combine scientific nutrition practices, intuitive holistic personal growth strategies, and energy awareness to give ​self driven people​ the tools they need ​for wild vitality. ​
Visit: https://www.maddieelise.com
Ticket Prices (explained)
Free for members (yes you should become one)
Students: $5 per each session or $15 for all four (one free essentially!)
Non members: $10 per session or $30 for all four (one free essentially!)
By taking all four sessions you'll be able to track your development and productivity increase week by week.