When:
August 24, 2017 @ 1:00 pm – 5:00 pm
2017-08-24T13:00:00-07:00
2017-08-24T17:00:00-07:00
Where:
Okanagan coLab
1405 St Paul St #204
Kelowna, BC V1Y 9N2
Canada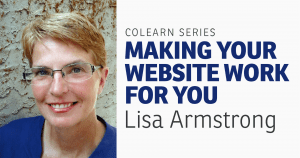 Having a website is great. But if you aren't
using
that website to bring in new clients and customers, or to boost your revenue, then your website is dead weight. A website that doesn't get used simply eats up your revenue with hosting and maintenance fees, without giving anything in return.
But with the right tactics in place, you can turn your website into your business' most powerful asset – a revenue-generating machine that keeps bringing you leads year after year.
In this session we'll explore the many ways your website can support your business. We'll have a look at different types of sites and which one is best suited for your business.  We'll also talk about how to make your site search engine friendly and work with social media.
But marketing is just the beginning. Next, we'll examine how your website can boost your cash flow,  automate tasks, build relationships with your customers, and keep the rest of the team up-to-date.
By the end of the session, you'll have a concrete roadmap for making your website work for your business!
Presenter
Lisa Armstrong has been building websites since the days hyperlinks were leading-edge technology.  Over the years, she has developed a wide range of sites from marketing websites to custom applications for specific industries.  She has both a wide-ranging view of technology and the specific skills to make it work. Her down-to-earth style makes for a fun and interesting workshop.  She is passionate about using technology to help people reach their dreams.
Contact Lisa at lisa@workingwebsites.ca, on her website or via LinkedIn.