When:
April 16, 2019 @ 7:00 pm – 9:00 pm
2019-04-16T19:00:00-07:00
2019-04-16T21:00:00-07:00
Where:
coLab - Affinity Hall
1405 St Paul St
Kelowna, BC V1Y 9N2
Canada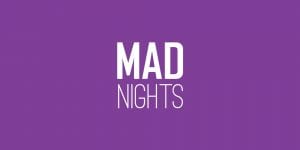 This MAD Nights will take the form of a panel discussion with four successful people in the marketing and design community who have experienced loss or adversity and made it back.
We have all suffered hardship one way or another, but we still have to work. We still have to do our best work.
Sometimes the road back to doing our best work can be long and difficult and we may have to deal with other priorities. Sometimes there's a process involved with us getting back to being effective and doing our best work. Sometimes we can figure out a process that works for us.
It takes time. We struggle. We cope. We come back.
Each panelist will share the process they found on their journey back. No one process is likely the same as the other, but we hope to help by sharing bits and pieces of people's journeys back.
Panel:
– Jennifer Leach-Trask – Moderator
– Scott Davis
– Nico Boesten
– Cam McAlpine
– Kodie Beckley
This is a free event open to anyone working in marketing and graphic design. Note the new time and location. It's on April 16th, 2019, 7pm to 9pm at the newly renovated coLab, 205-1405 St Paul St., Kelowna, BC.
The Okanagan coLab is a coworking space in the heart of downtown Kelowna that is home to over 100 members. coLab's member success stories include Yeti Farm, Vinstream, Motivation Engine, and eKanary.
Check out the coLab at okcolab.com or contact shane@okcolab.com to book a tour and free trial day.