When:
March 6, 2020 @ 12:00 pm – 1:00 pm
2020-03-06T12:00:00-08:00
2020-03-06T13:00:00-08:00
Where:
Okanagan coLab
201-1405 St Paul St
Kelowna, BC V1Y 2E4
Canada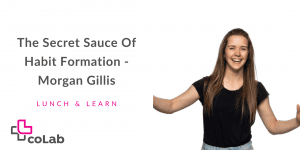 Tired of trying to lose that last 20 pounds?
Sick of procrastinating on that important project for your business?
Habit change can be HARD, especially when you don't have the proper systems set up. Why can't you seem to break your bad habits? And why can't you seem to make the good ones stick?!?! What can't you get back on track when you fall off? How come you often find yourself struggling to find the motivation, discipline, and/or willpower?
(Chances are, you've asked these questions before. Beating yourself up over & over & over again about why you couldn't make the changes … sending you into a negativity spiral. Ughhh, the dreaded negativity spiral!)
Well screw that! I'm here to tell you that it's actually not you … it's your systems.
[Yes, insert the "it's not you, it's me!" joke here haha]
But seriously though! Once you figure out the systems – the proven strategies to help you break your bad habits and form the good ones – you won't need all that willpower, motivation and discipline ever again!
Join CoLab's habit expert Morgan Gillis to learn:
– The Mind-Blowing Power of Habits
– How Habits Work (4-step framework)
– The Reason Most People Fail To Break Bad Habits (and how to avoid it)
– Proven Strategies to Create Good Habits
– What To Do When You "fall off the wagon"
– And more!
About Morgan:
Morgan Gillis is a habits coach with over 5 years experience helping people break bad habits and build good ones. She started out at a health and nutrition coach back in 2015, but has since moved on to her real passion → helping entrepreneurs. Today she spends her time 1-on-1 coaching and running programs such as her "Morning Routine Challenge." Be on the lookout for her upcoming productivity planner on Amazon!