When:
April 21, 2020 @ 12:00 pm – 1:00 pm
2020-04-21T12:00:00-07:00
2020-04-21T13:00:00-07:00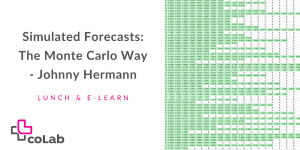 About this Event
Forecast work without estimating (#NoEstimates). People are poor at estimating, especially in absolute time or effort. But estimating is just one way to forecast. Discover forecasting via Monte Carlo simulations, based on empirical data!
When you register for this online lunch and e-learn talk you will be sent a URL 24-hours before the start time to join the live zoom call.
—-
coLab Online Community
Apply for online access to our vibrant online community, attend events, get discounts, and join a global network of independent coworking spaces, and so much more.
Why join? Online community, Members-only announcements, free and discounted events every week, community directory, coworking visa access to 500 spaces worldwide, and month to month payment.