When:
February 25, 2019 @ 12:00 pm – 1:30 pm
2019-02-25T12:00:00-08:00
2019-02-25T13:30:00-08:00
Where:
coLab Affinity Hall
1405 St Paul St
Kelowna, BC V1Y 9N2
Canada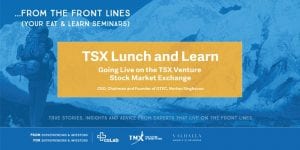 (your eat & learn seminars – lunch is provided at a reasonable charge)
An interactive session where you will learn from hands-on experts that live and work on the front lines.
Going Live on the TSX Venture Stock Market Exchange: hear and learn from the first hand experience of the CEO, Chairman and Founder of GTEC, Norton Singhavon, in Kelowna. [Seating is limited]
Some of the Things You Will Learn:
Why go live on the TSX Venture Exchange
How this works.
What can you expect when you do this.
How to be prepared and ready for this process.
This is for you if you:
Are a Founder or Executive of a startup, or about to create a startup
Are a going concern looking for that Exit liquidity moment.
Are an investor wanting to understand how your capital and earning is returned through this process.
Our Speakers
Norton Singhavon
Founder, Chairman & CEO of GTEC Holdings Ltd.
Founder and Executive Chairman of Doventi Capital.
Extensive experience at the senior management level of capital investments including large acquisitions, consolidations, and start-ups in Canada's legal cannabis sector
Responsible for internally deploying over $45 million into the legal cannabis sector and
$65 million of public M&A transactions.
Norton was also an advisor to, and early-stage investor in, Invictus MD
Andy Creech
Director of Capital Formation at the TSX Venture Exchange (the "Exchange")
Primary responsibility for Listings Department in Vancouver and is also a member of the Exchange's Executive Listings Committee.
Andy has team of professional and administrative staff including geologists, lawyers and accountants who are dedicated to listing quality applicants
Some of these duties include the review of major transactions, the coordination of all new listings, and working with industry stakeholders to facilitate issuer transactions.
Prior to joining the Exchange in 2004, Andy, a Chartered Accountant, was in public practice at a Vancouver firm.