When:
January 9, 2020 @ 6:30 pm – 8:30 pm
2020-01-09T18:30:00-08:00
2020-01-09T20:30:00-08:00
Where:
Okanagan coLab
1405 St Paul St #201
Kelowna, BC V1Y 2E4
Canada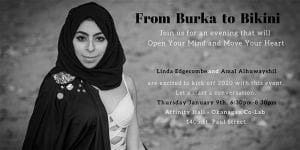 A Personal Journey to Freedom
Join us for an evening that will Open your Mind and Move your Heart. Whatever you have ever thought about Middle Eastern Women and gender equality. Amal is here to shift some of those thoughts, blindspots and biases. Born and raised in Saudi Arabia, she was in a fixed marriage at 19, filed for divorce and left the (Kingdom of Men) –her words, arrived to Canada 2013, at 24 and fully covered from head to toe. Through personable and compelling storytelling, she will inspire you to step into your own journey to personal freedom, to build resilience, to find your courage and audacity to stay standing in the face of your fears, overwhelm and chaos.
About your speaker:
Amal Alhuwayshil went from being born and raised in Saudi Arabia under societal and political oppression, to moving to Canada, to re-writing her story, to leveraging the pain from the past to build a fulfilling life, to finding her passion in advocacy for Human Rights, to being the first female President of UBCO Students' Union, to working with both the Provincial and Federal Government representing BC post-secondary students, to becoming a community leader, a powerful TEDx Talks keynote speaker and a business owner.Amal's story is of overcoming, courage, resilience and high achievement. Amal brings her exuberance, humour, and experience to inspire her audiences to dream big. Through personable and riveting storytelling, she is helping leaders of today harness their inner courage, overcome their biggest obstacles, build resilience, and maximize their success. She helps the audience reach their significance, so they can all show up everyday, truly as they are, significant.On any given day, you will find Amal teaching and practicing yoga, reading, dancing and most likely talking to strangers.
This talk is a part of VISION 2020 with Linda Edgecombe
Linda, with pure excitement, is hosting a series of mind shifting and provocative presentations throughout 2020. This is the year for all of us to find our Vision2020 and get some Clarity. It is her privilege to bring to Kelowna some of today's top thinkers and shift changers. You may not have heard about some of them but you won't want to miss any of them.
Join us on January 9th for our First Vision2020 Speaker – Amal Alhuwayshil
About your host:

Linda Edgecombe, CSP, Hall of Fame Speaker, Award Winning PhilanthropistHer Promise is simple: "to deliver programs that Create Powerful Shifts, Inspired, Energized and Accountable Professionals who show up everyday ready to, as my mom used to say, "set the world on fire". Oh and I promise it will be a heck of a good time. "As an award winning Celebrity Humorist Speaker, Trainer and Consultant. For the past 25 years, Linda's footprint is seen and experienced around the world. Her mission is to get people Fired up and Ready to Shift or Get off the Pot! The Top 60 Motivational Speakers in the World includes Linda Edgecombe. Her latest book and Ted Talk. "Breaking Busy – Finding Peace in the Chaos" is a game changer for those who want to step off the treadmill. Change has never been this painless! Linda has been featured in the Wall Street Journal as an expert in "Shifting Perspectives". Her messages are as welcome as a deep belly laugh and as profound as an honest look in the mirror.
www.lindaedgecombe.com
Tickets are $20 with all proceeds going to the Elizabeth Fry Society's #SpeakOut Campaign supporting women survivors of domestic violence.
Refreshments are provided
Limited sposts available – Save your seat!
Thursday January 9th, 6:30pm – 8:30pm
Affinity Hall – Okanagan coLab (1405 St. Paul Street)
About Okanagan coLab:
Kelowna's premier co-working space, where smart, talented independent professionals come to work hard on big, important projects, socialize with like-minded people, grow their network, learn new skills, and have fun doing it.
Photo credit: Ryan Markewich