When:
March 27, 2020 @ 4:00 pm – 5:00 pm
2020-03-27T16:00:00-07:00
2020-03-27T17:00:00-07:00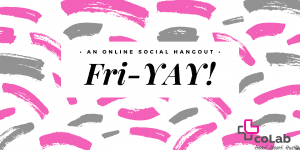 Like Crafternoons? Say Hello to Fri-YAY!
Good news, everyone!
Starting March 27, 2020, the Okanagan coLab will be hosting Fri-YAY! — an online social hangout for members to eat, drink, and be merry, all from the comfort of their own homes. (So if you're working from home, you can still par-tay-down!)
Here's how it works:
Show up online to the designated Zoom link with your fave bevvy in hand – whether that's beer, wine, vodka, kombucha for you health freaks, tea/coffee/soda if you're a teetotaler, or something else entirely.
Bring yer favourite novelty glass or mug – the weirder, the better! Now's your opportunity to break out the Viking-style drinking horn or the Yoda-shaped beer stein.
Fill yer mug, chew on some snacks if you feel like it, and chat with your fellow Fri-YAY! attendees about anything, everything, or nothing at all.
Fri-YAY! will take place via Zoom every Friday from 4 PM to 5 PM.
—-
coLab Online Community
Apply for online access to our vibrant online community, attend events, get discounts, and join a global network of independent coworking spaces, and so much more.
Why join? Online community, Members-only announcements, free and discounted events every week, community directory, coworking visa access to 500 spaces worldwide, and month to month payment.