When:
November 22, 2019 @ 12:00 pm – 1:30 pm
2019-11-22T12:00:00-08:00
2019-11-22T13:30:00-08:00
Where:
Okanagan coLab
1405 St Paul St #203
Kelowna, BC V1Y 9N2
Canada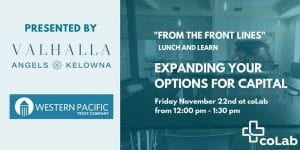 (your eat & learn seminars – lunch is provided at a reasonable charge)
An interactive session where you will learn from hands-on experts that live and work on the front lines.
Expanding Your Options for Capital: learn about how to make the capital raise into your private company eligible to take in funds that are from your investors' TFSA and RRSP accounts [Seating is limited]
Some of the Things You Will Learn
How this works.
Is your company a good fit for this?
What can you expect when you do this?
How to be prepared and ready for this process.
What does this mean to your investors?
This is for you if you are a Founder or Executive of a startup, or about to create a startup
Our Speaker
Alison Alfers
President and CEO of Western Pacific Trust
Has extensive experience spanning more than 30 years in a range of businesses within the financial services industry, including insurance, mutual fund dealership and real estate investment, as well as in the oil and gas industry
Served in senior officer and director roles for a number of public and private companies
Served on the Board of Directors of the Private Capital Markets Association for five years, Alison is the Vice-President of the BC Chapter of the PCMA.
Steven Yougman
Director, Trusts for Western Pacific Trust Company
More than 30 years of experience in the tax field and in structuring businesses, including having run a successful tax law practice for many years.
Responsible for approving the eligibility of private securities to be held in self-administered registered plans at Western Pacific Trust Company. Steve also provides assistance to prospective issuers/founders and their advisors as to RRSP/TFSA eligibility matters