When:
August 6, 2019 @ 6:00 pm – 9:00 pm
2019-08-06T18:00:00-07:00
2019-08-06T21:00:00-07:00
Where:
Okanagan coLab - Affinity Hall
1405 St Paul St
Kelowna, BC V1Y 9N2
Canada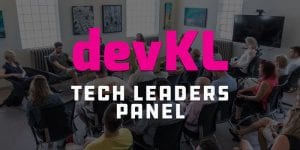 devKL Leaders Panel is back! We have a great group of esteemed panelists to talk about some of the hottest topics voted in by devKl community:
Privacy/Ethics and Data
Building for Now or for Future: cost of complexity and speed
Hiring and Retention of Talent
Build vs. Buy
Why join us:
Meet tech leaders of Kelowna and learn what their organizations are doing
Explore and internalize different opinions backed by a wealth of experience
Network with other technologists
Learn something new
When: Tuesday Aug 6, 6PM
Agenda
6:00 – 6:30 Networking
6:30 – 6:45 Introductions/ Event Kick-off
6:45 – 7:30 Panel Discussions
7:30 – 7:45 Break
7:45 – 8:25 Panel Discussions
8:25 – 9 Wrap up
This is a 19+ event.
Panel Bios
Adrian Schneider – Moderator
devKL host and founder, Adrian is a polyglot software developer and systems designer who has been creating software products for over 15 years. After developing hundreds of applications, across many industries, he has internalized many hard-earned lessons. He actively practices software modelling & testing techniques, as well as ensures his team's feedback systems are always listening and learning. Adrian lives in a terminal (go vim!) and aggressively automates his current job away.
Jacquie Armstrong
Jacquie Armstrong is the Director, Technology and head of studio for the Disney office in Kelowna. As a technology leader, Jacquie is passionate about digital transformation, building strong teams and the software '-ilities'. Additionally, Jacquie brings to her role perspective and insights gained from years competing in the sport of Women's Curling at the elite levels.
Giuseppe Burtini
Giuseppe Burtini, founder of Exploration Engineering and Iterative Research, is an entrepreneur and technologist with specific interest in software engineering process, database design and application, machine learning and optimization. Giuseppe's experience covers the range of software challenges, including: scientific research and experimental development, rescuing non-delivering software teams and projects, instituting agile practice and principles at all sizes of organization and helping government and bureaucratic environments deliver great software. Currently, his focus is on advising executives, assembling strong engineering teams, bridging the gap between vision and effective execution, and orchestrating projects from objectives through vision, specification, architecture, development, and testing to deployment and revenue.
Mason Macklem
Dr. Mason Macklem is a two-time NSERC scholar and three-time Killam Fellow, with research in high-performance computing and numerical optimization. He has spent the last 9 years helping local companies integrate AI and cloud solutions into their product. He is currently Senior Cloud Researcher for Tveon Systems, focusing on AI-driven video encoding and delivery solutions.
Ryan Faith
Ryan Faith, P.Eng., MBA is the Director of Software Engineering for QHR, and has led Software Engineering teams for over 10 years in multiple industries, and most recently in Healthcare. He is passionate about uniting Canadian healthcare, connecting providers to their patients, information and each other. He gives back to the home school community as the Treasurer for Heritage Christian Online School Parent Advisory Council.
Anna Goltsman – Host
Anna, Technical Product Manager at eDynamic Learning, is a devKL co-host, data geek and self proclaimed queen of cats. Anna is passionate about technology, privacy and is always thankful for a good cat picture.
Sponsors
Playr.gg
Okanagan coLab