When:
October 11, 2017 @ 12:00 pm – 1:00 pm
2017-10-11T12:00:00-07:00
2017-10-11T13:00:00-07:00
Where:
Okanagan coLab
1405 St Paul St #204
Kelowna, BC V1Y 9N2
Canada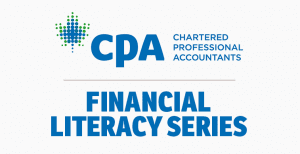 Join us for a free 1-hour Brown Bag Lunch and Learn session with Michele Leeners and Judy Lloyd, as a part of CPA Canada's Financial Literacy education for small businesses and entrepreneurs.
The initial hurdles are passed. Your business has some year ends under its belt. Now you need to understand the individual items that make up your financial picture. This session reviews the more complex concepts that creep into the statements: accruals, prepaid expenses, amortization, work in process, goodwill, earnings per share.
About Your Facilitators
Michele Leeners, CPA, CA, has over 25 years of experience in senior finance and board of director roles. Her diverse industry experience encompasses start-ups to large corporations both private and public. Michele enjoys helping individuals and companies to better understand the complex world of finance.
Judy Lloyd, FCPA, FCMA is a business management consultant. She spent 30 years in public practice working with entrepreneurs. Judy also teaches entrepreneurship and business planning through Community Futures Development Corporation.