When:
September 27, 2018 @ 12:00 pm – 1:30 pm
2018-09-27T12:00:00-07:00
2018-09-27T13:30:00-07:00
Where:
Okanagan coLab
1405 St Paul St #201
Kelowna, BC V1Y 2E4
Canada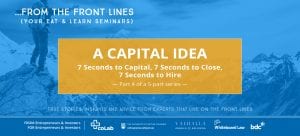 A Capital Idea
7 Seconds to Capital, 7 Seconds to Close, 7 Seconds to Hire..
(Part 4 of a 5-part series)
How important are first impressions?
How important are your relationships with customers, investors, suppliers, service providers, staff, other stakeholders…?
Why relationships are critical and how to conduct / not conduct yourself to build trust & maintain support of your those that will help you be a success?
What types of relationships are very helpful?
With investors, why is a proper and polite refusal to take capital important? When to do this?
What do people tend to focus on when investing?
Those first 7 seconds is all it takes for making a first impression!
Communications and relationships – this is often never talked about, yet it is a keystone for success. What you say, how you say it and how it is delivered to employees, potential investors, advisors, trusted professional…everyone that will be impacting the organization.
Relationships are critical and how to conduct yourself and how not to conduct yourself to ensure you are trusted today and going forward. We will look at how people have lost trust quickly both from an investor point of view and a founder's point of view, and what were the outcomes. In short, don't burn any bridges.
Entrepreneurs: You'll gain insights on how to communicate with different groups and why some of our current technology hampers communications in building trust and how you can correct this moving forward.
Investors: You'll learn what to look for in Founders' (and their team's) communication skills and how these will translate in their efforts to build fruitful relationships with their stakeholders.
A Capital Idea is a series of interactive lunch-and-learn sessions for entrepreneurs and investors. Feel free to sign up for all of them or just one – each session is independent of the others, but they all build on each other.
Taking place September 27th with Part 5 taking place in October.
Part 5 will take place in October. (Further details to come.)
Your Speakers & Panel
Colleen Chapman
Founder and CEO, Canscribe Career College
Co-owner and founder of Docnito Ltd.
Co-owner and founder of Weave Enterprises
Sam Fisher
President and past CFO, Hyper Hippo Games
Past Execuitve-in-Residence, Accelerate Okanagen
Past All-Star Slam Dunk Winner, men's master league
Charlene Wowchuck
Founder and Co-Owner, Kwik Auctions
Founder and Co-Owner, Blind Tiger Winery
Your Host
Grant Lawrence
President Valhalla Angels Kelowna
Active Angel Investor
20+ year veteran in the enterprise B2B space
Sitting on various startup advisory boards
Volunteering in the Okanagan including Lake Country Arts Council