When:
September 22, 2017 @ 5:30 pm – 9:00 pm
2017-09-22T17:30:00-07:00
2017-09-22T21:00:00-07:00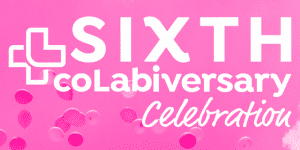 It's a very special birthday! Come celebrate in style as we mark the Okanagan coLab's 6th anniversary.
It's been 6 years since the Okanagan coLab opened its doors and started connecting freelancers, startup founders, and remote workers in a shared quest to build cool stuff. In that time, the coLab has played host to hundreds of events and connected countless entre- and intra-preneurs, and our members have collectively invested over 100,000 hours into projects they care about.
To mark the occasion, we're having our anniversary party on September 22nd.
We are also celebrating the expansion and reinvigoration of our physical space. Since taking over the space formerly occupied by Accelerate Okanagan in April, we've spent several months designing floorplans, renovating, placing furniture, and upgrading amenities to give the space a uniquely coLab feel (you can read more about the renovations here).
Come celebrate with us and fellow entrepreneurs, community members and friends & supporters. At this fun casual event, We'll share the stories that have defined the 'Lab, enjoy some great food and drinks, and connect with old and new friends.
Tickets are FREE and include 1 drink, catered appetizers, and the evening's musical entertainment. There will be a cash bar stocked with a variety of tasty alcoholic beverages for you to enjoy. We will also have a community potluck, because at coLab we are all about sharing and collaborating. Please sign up here and tell us what dish you will bring to share!
When: Friday, September 22, 2017, 5:30 – 9 pm. Live Music starts at 6 pm!
Where: Okanagan coLab, 201-1405 St. Paul Street, Kelowna BC
What to bring: A dish to share. Bring an appy, a salad, a snack, a dessert, or drinks. Note that the coLab does not have an oven. Hot dishes can be reheated in the microwave, while cold dishes can be kept in our refrigerator.
Agenda:
5:00 pm Registration
5:30 pm Potluck, appetizers, and refreshments
6:00 pm Live Music begins
6:30 pm Remarks
We can't wait to see you on September 22nd! In order to plan for the potluck and the amount of food, please purchase your free ticket here asap, so we know you're coming by!
Cheers from the coLab Team